Source: _Life Without a Centre
by Jeff Foster
In your attempt to be an 'adult',
you lose touch with your inner child.
In your rush to be the 'expert',
you disconnect from the amateur in you,
the inner lover, innocent and wild.

In your quest for security,
you run from your insecurity,
bury your anxiety, crush your doubts,
until one day they explode all over the place.
And make a mess of your nice, 'ordered' life.

Don't confuse the role you play
with who you truly are.
Don't confuse the adaptation with the actor,
the changing weather with the vastness of sky.

Your true identity lies in Presence, friend.
And wonder.
And creativity.
And an infinite number of new beginnings.

Each moment.
Each canvas.
Each Now.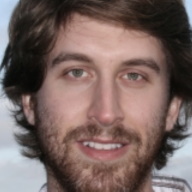 Jeff Foster studied Astrophysics at Cambridge University. In his mid-twenties, after a long period of depression and illness, he became addicted to the idea of 'spiritual enlightenment' and embarked on an intensive spiritual quest for the ultimate truth of existence.
The spiritual search came crashing down with the clear recognition of the non-dual nature of everything, and the discovery of the extraordinary in the ordinary. In the clarity of this seeing, life became what it always was: intimate, open, loving and spontaneous, and Jeff was left with a deep understanding of the root illusion behind all human suffering, and a love of the present moment.
Jeff presently holds meetings, retreats and private one-to-one sessions around the world, gently but directly pointing people back to the deep acceptance inherent in the present moment.