by Jeff Foster

Be like the Sky.
Let rain, snow, the most ferocious storm,
pass through, moment by moment.
You can withstand anything.
You were built to LIVE.

Breathe into your pain.
Oxygenate your sorrow.
Invite Awareness deep into your rage.

Trust that it is here.
Trust that it shall pass.
Trust that you will remain.
Trust that you always have.

Trust that
sometimes
you forget
how to trust.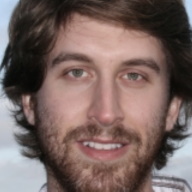 Jeff Foster studied Astrophysics at Cambridge University. In his mid-twenties, after a long period of depression and illness, he became addicted to the idea of 'spiritual enlightenment' and embarked on an intensive spiritual quest for the ultimate truth of existence.
The spiritual search came crashing down with the clear recognition of the non-dual nature of everything, and the discovery of the extraordinary in the ordinary. In the clarity of this seeing, life became what it always was: intimate, open, loving and spontaneous, and Jeff was left with a deep understanding of the root illusion behind all human suffering, and a love of the present moment.
Jeff presently holds meetings, retreats and private one-to-one sessions around the world, gently but directly pointing people back to the deep acceptance inherent in the present moment.