by Dan Dicks, Press for Truth
March 13, 2021
The Delta Hospice Society in British Columbia refuses to provide MAID (medical assistance in dying) aka facilitating a suicide and for that the Canadian government has evicted all the patients, they are shutting down the hospice and they are taking over the property as well!

There are other facilities that offer that service literally within walking distance of the hospice but for the Canadian Government that doesn't matter, if you refuse to help someone kill themselves, they'll shut you down.

In this video Dan Dicks of Press For Truth speaks with the president of the Delta Hospice Angelina Ireland about the battle to keep people alive when the government is the only obstacle!
To support the Delta Hospice visit:
https://deltahospice.org
https://www.savedeltahospice.com/
Press for Truth BitChute: https://www.bitchute.com/pressfortruth/
Press for Truth LBRY: https://lbry.tv/@PressForTruth
What is MAID? MAID (Medical Assistance in Dying)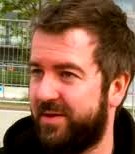 Dan Dicks is an investigative journalist and an award winning documentary filmmaker. He is also the founder of an independent media outlet known as Press For Truth which produces videos and documentary films about issues that the mainstream media often fails to report on.
Press for Truth Bitchute channel