BREAKING: Incoming Troops & MARTIAL LAW As ALL of NY ORDERED on LOCKDOWN With Strict QUARANTINE!!!
Dan Dicks with Jason Bermas
The state of New York will soon be on strict lockdown with orders for all non essential businesses too close and for everyone to remain inside on quarantine.
Meanwhile the national guard has been deployed and the US military is taking the steps now to have their soldiers ready for anything when it comes to dealing with those who may disobey the orders.
In this video Dan Dicks of Press For Truth speaks with Jason Bermas from inside the soon to be red zone in New York about the Draconian lockdown order that has been issue for the entire state, how that will effect the economy moving forward and where he sees this all going in the very near future!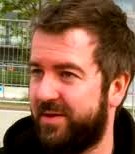 Dan Dicks is an investigative journalist and an award winning documentary filmmaker. He is also the founder of an independent media outlet known as Press For Truth which produces videos and documentary films about issues that the mainstream media often fails to report on.
Press for Truth Bitchute channel