Topics include:
The lack of scientific proof for the existence of viruses that cause disease
The massive confusion in the field of virology — where they simply make things up to fit a narrative
The work of Dr. Stefan Lanka
How genetic sequencing is done
relevance of Koch's postulates
alleged "variants"
by Dr. Sam Bailey
June 8, 20201
Video available at Dr. Sam Bailey Odysee channel.
Connect with Dr. Andrew Kaufman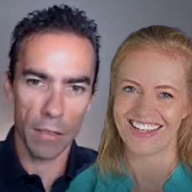 Mark is a microbiology, medical industry and health researcher who worked in medical practice, including clinical trials, for two decades.
Samantha is a content creator, medical author & health educator.  After training and practicing within the medical system for two decades, she commenced a new phase of understanding and promoting health as a wider concept. Sam is a co-author of the number 1 best seller in Amazon Microbiology Science: 'Virus Mania' which examines how the medical industry continually invents epidemics to make billion-dollar profits at our expense.
Subscribe to their Odysee video channel.