Emergency Tribunal Hearing: Corona Pandemic and the Planetary Shutdown
by International Tribunal for Natural Justice
April 8, 2020
On the 7th April 2020, the ITNJ held an emergency hearing to discuss the Corona Pandemic and the Planetary Shutdown.
ITNJ Founder – Sacha Stone with Commissioners, Del Bigtree, G. Edward Griffin, Dr. Sandra Rose Michael, Former CIA Spy – Robert David Steele, Filmmaker – Sean Stone along with ITNJ Trustee – Thomas J. Brown and Chief Justice – Sir John Walsh of Brannagh.
Link to Sean Stone's short film: 'Singularity'. https://m.imdb.com/video/vi2602107673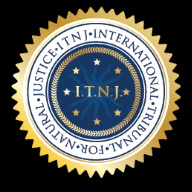 ITNJ Vision: A world in which the Earth is honoured; Truth is spoken; Love is the basis of all action; and Justice is an organic, self-fulfilling function of respect for natural law.
ITNJ Mission: To apprehend the abuses and tyranny of systems and institutions; restore truth and reason to the delivery of justice in the world; and uphold natural justice as the foundational tenet of human expression beyond the artifice of borders and boundaries.
ITNJ Open Court: In homage to its overriding commitment to Truth and transparency, the ITNJ is committed to video-recording all proceedings and live-streaming hearings and trials whenever possible, with all video recordings archived for public access.  Never again shall the corrupting influence of secrecy be permitted to colour the hearts of those whom we entrust as guardians of our ancient treasures; our birth-right of natural justice.