Poems on Gratitude
by Sri Chinmoy
When gratitude survives
All disappointments,
Then it is real gratitude.

---

Gratitude grows
By self-giving.

---

A gratitude-heart
Is to discover on earth
A Heaven-delivered rose.

---

Gratitude can transform
Our life
Sooner than anything else.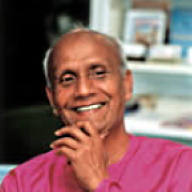 Chinmoy Kumar Ghose, better known as Sri Chinmoy (27 August 1931 – 11 October 2007), was an Indian spiritual leader who taught meditation in the West after moving to New York City in 1964. Chinmoy established his first meditation center in Queens, New York, and eventually had 7,000 students in 60 countries. A prolific author, artist, poet, and musician, he also held public events such as concerts and meditations on the theme of inner peace.