by Dan Dicks, Press for Truth
May 25, 2020
When you're venturing out into the post Covid 19(84) world it is now imperative that you protect your privacy from the authorities who want to use the so called "pandemic" as an excuse to track trace and database your every move through contact tracing apps (even if you haven't downloaded one) in what is now clearly a big brother surveillance grid nightmare the likes of which Orwell himself couldn't have even imagined!
In this video Dan Dicks of Press For Truth shows you how to navigate this world full of Karens and NPC's to avoid any digital contact that may land you in front of the authorities or worse behind bars!
The BEST OPTION is to simply leave your phone at home when going into public…but IF for whatever reason you must keep one on you, then searching for a faraday case that works for you will be a wise move moving forward!
---
[Editor's note:  Signal blocking fabrics can be found at many online sources to assist us in guarding against surveillance. Protective sleeves and pouches are also available for phones, passports, credit cards and all chipped devices.]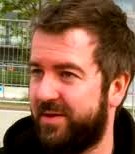 Dan Dicks is an investigative journalist and an award winning documentary filmmaker. He is also the founder of an independent media outlet known as Press For Truth which produces videos and documentary films about issues that the mainstream media often fails to report on.
Press for Truth Bitchute channel