Source:  Press For Truth
Published on Jun 9, 2018
Some of the most powerful and influential people in the world are meeting in secret right at this very moment. Political leaders and experts from industry, finance, academia and the media are invited to take part in the conference, about two thirds of the participants come from Europe and the rest from North America; approximately a quarter from politics and government and the rest from other fields. In this video Dan Dicks of Press For Truth speaks with Charlie Skelton a veteran when it comes to exposing the Bilderberg group.
Support Dan on his mission to expose Bildeberg this year in Italy by rocking one of these Investigate Bilderberg T_Shirts: teespring.com/investigate-bilderberg-2018
Patreon ➜ https://www.patreon.com/PressForTruth
Follow Dan on DTube ➜ https://d.tube/#!/c/pressfortruth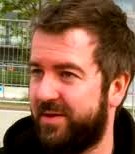 Dan Dicks is an investigative journalist and an award winning documentary filmmaker. He is also the founder of an independent media outlet known as Press For Truth which produces videos and documentary films about issues that the mainstream media often fails to report on.
Press for Truth Bitchute channel