by 21st Century Wire
July 26, 2021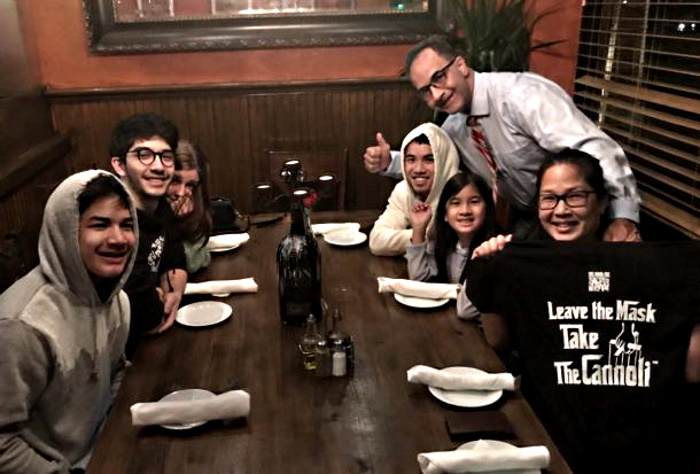 Basilico's Pasta e Vino in Huntington Beach, CA has once again shown defiance in the face of the perpetual COVID-19 police state that has crashed local economies since 'pandemic' restrictions were imposed on the people and businesses of California beginning in 2020.
The Orange County eatery previously promoted a mask-free dining experience and even required diners to remove their masks before entering, according to the LA Times.
Now, Basilico's has added a new twist, putting diners and public health officials on notice:
'Proof of being unvaccinated is required for entry.'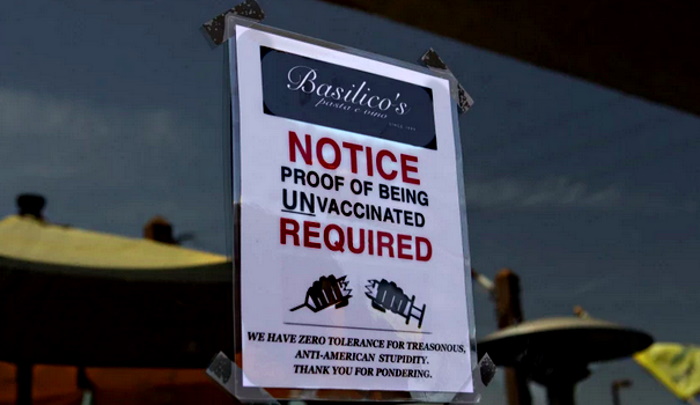 Basilico's owner, Tony Roman, told the LA Times in an email that he's fighting harmful government policies:
"With warning signs of another impending lockdown, and many business owners again emboldening those who I refer to as 'the lockdown tiny tyrants' — this time by imposing proof-of-vaccination policies — we chose to fire another missile of defiance to further make our point in defense of American liberty and freedom," he said.
Huntington Beach and other California beach towns have consistently challenged Governor Gavin Newsom's 'overreach' orders going as far back as May of last year.
Basilico's trademark COVID catchphrase, "Leave the mask, take the cannoli", has been featured on a billboard along La Cienega Boulevard in Los Angeles and is also on a t-shirt design that can be purchased on its website.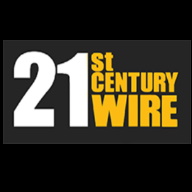 21st Century Wire exists with the purpose to educate, promote learning on geopolitical and social issues, as well as provide much-needed independent commentary, news reporting, including criticisms and critiques of larger corporate and foundation-funded media outlets and their coverage of global events.
They also aim to deliver a consistent stream of independent research on subjects and views that are generally not covered in the corporate-owned and foundation-funded media spheres. In this way, they are helping to re-balance the discourse by giving a platform to alternative views and narratives which are largely absent from the corporate mainstream media and state-affiliated media outlets.