Why is the International Tribunal for Natural Justice (ITNJ) holding an inquiry into the Weaponisation of the Biosphere? Find out in this short 10min opening introduction filmed in Bali, June 2019.
Brief excerpts from transcript:
Sir John Walsh of Brannaugh, ITNJ Chief Justice:
This gathering is testimony from people that witness to the truth and they come to present the testimony to assist us in making a change — what I called some time ago is the quiet revolution…
Dr. Chris Cleverly, ITNJ Justice:
…many of the comments of those people coming forward are that man itself is the engineer of our extinction and that they are coming up towards an extinction event…
One person's truth can easily be pushed away but as we tell the stories in these depositions and witness statements are taken — it is the collection of them that itself gives us defense…
It has been said before by me and will probably be said again:  Justice just is…
You all know what natural means and you know what justice is. Justice is what you feel in yourself as your sovereign soul is right.
---
ITNJ Trustee Emeritus, Sacha Stone gives a powerful speech. His remarks wrap up the Day 1 Seatings of the ITNJ Judicial Commission of Inquiry into the Weaponisation of the Biosphere. 24th June, 2019.
Brief excerpts from transcript:
Sacha Stone, ITNJ Trustee Emeritus:
Yesterday watching from the public gallery I was just enchanted, enthralled, delighted, horrified — in equal measure — at the stuff we were witnessing, we were hearing.  Very very happy to announce that last night after yesterday's session, where Del Bigtree gave some extraordinary evidence and testimony, he was sworn in as a commissioner to this judicial commission of inquiry into weaponization of the biosphere…
We are addressing the established order of things with this tribunal and with this commission. This is not play-acting.  It is not play-acting.  Last year the International Tribunal launched the Judicial Commission of Inquiry into Human Trafficking and Child Sex Abuse and this is the commemorative issue which came out of that. It's online —  made freely available to anyone who's interested. Hundreds and hundreds of hours of expert testimony…
… the Commission of Inquiry into Weaponisation of the Biosphere is something so pressing that we couldn't wait to close the other commission…
Again we need to consider very closely how it is that we as citizens, as subjects,  as good people of the soil,   taxpayers — how it is that we allow this status to prevail because it is not happening to us any more than we are permissioning it to happen to us. And if we lose sight of that then indeed we are play-acting. We're play-acting at being humans. Let's stop play-acting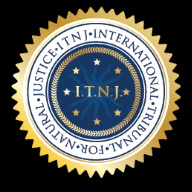 ITNJ Vision: A world in which the Earth is honoured; Truth is spoken; Love is the basis of all action; and Justice is an organic, self-fulfilling function of respect for natural law.
ITNJ Mission: To apprehend the abuses and tyranny of systems and institutions; restore truth and reason to the delivery of justice in the world; and uphold natural justice as the foundational tenet of human expression beyond the artifice of borders and boundaries.
ITNJ Open Court: In homage to its overriding commitment to Truth and transparency, the ITNJ is committed to video-recording all proceedings and live-streaming hearings and trials whenever possible, with all video recordings archived for public access.  Never again shall the corrupting influence of secrecy be permitted to colour the hearts of those whom we entrust as guardians of our ancient treasures; our birth-right of natural justice.