by James Corbett, The Corbett Report
May 25, 2021
Today James continues the discussion on "positive propaganda" by looking at some examples of #antiganda. Activists around the world are creating eye-catching messages designed to get people to question their conditioning. Here's how you can join them.
Watch on Archive / BitChute / Minds / Odysee / YouTube or Download the mp4
SHOW NOTES:
Positive Propaganda? – #PropagandaWatch
Free download of ready to print #antiganda
James Corbett on Declare Your Independence with Ernest Hancock
LOVE Bus Liberty Tour Sign Stencil/Template PDF's
Please, Steal this Logo!!! (the Ron Paul Revolution Artwork)
Russell Brand Trademarks (steals) 'r3VOLution' Logo Made Famous by Ron Paul Campaign

Biodigital Convergence: Bombshell Document Reveals the True Agenda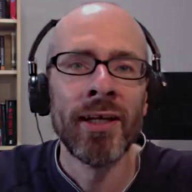 James Corbett has been living and working in Japan since 2004. He started The Corbett Report website in 2007 as an outlet for independent critical analysis of politics, society, history, and economics. Since then he has written, recorded and edited thousands of hours of audio and video media for the website, including a podcast and several regular online video series. He is the lead editorial writer for The International Forecaster, the e-newsletter created by the late Bob Chapman.
His work has been carried online by a wide variety of websites and his videos have garnered over 40,000,000 views on YouTube alone. His satirical piece on the discrepancies in the official account of September 11th, "9/11: A Conspiracy Theory" was posted to the web on September 11, 2011 and has so far been viewed nearly 3 million times.
For more in-depth content, James Corbett offers a subscription newsletter. Become a Corbett Report subscriber: https://www.corbettreport.com/members/