by Thich Nhat Hanh
Walk and touch peace every moment.

Walk and touch happiness every moment.

Each step brings a fresh breeze.

Each step makes a flower bloom.

Kiss the Earth with your feet.

Bring the Earth your love and happiness.

The Earth will be safe

when we feel safe in ourselves.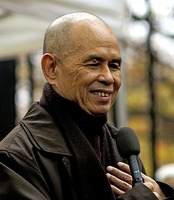 Thích Nhất Hạnh (October 11, 1926 – January 22, 2022) was a Vietnamese Thiền Buddhist monk, peace activist, spiritual teacher and poet.