Source: SacredScienceDoc
Published on Apr 23, 2018
Herbalist and author Stephen Harrod Buhner explains the power of words and how they can enhance or limit our perception of this reality.
Transcript:
I think it was Wittgenstein that said, "Things that we have no words for we pass over in silence."

In our culture, for instance, one of the best first examples I ever thought of is puppies, when you see a little puppy walking across the floor, now if you don't like dogs this has going to mean nothing to you but most people kind of like puppies you know they're really cute. It's about six weeks old, and it's walking across the way puppies doing it smelling the floor, hasn't seen you yet.

And you know the way puppies walk with their back legs a little faster than their front so their eyes kind of catter-corner? Smelling the floor totally caught up in wonder of all the smells that we even know what they are.

And then you see the puppy, and you go, Here boy here boy and the puppy looks up and goes, It's you. I've been waiting my whole life to find you.

And you feel this burst of energy come out of the puppy and this burst of energy leaves you and goes into the puppy, and the puppy bounds over and you just want to touch each other more than anything it feels so good?

That burst of energy that goes between you, it's one of the most important things in a human life, but we don't have a word for it in our language so we can't talk about it, while the ancient Athenians had a word for it they called the aesthesis – it's the moment the exchange of soul essence between you and another living organism in the world outside of you and for a moment something leaves your body and enters the puppy and something leaves the puppy's body and enters you.

We all do it all the time, but we never talk about it because we've been trained to not understand that we have an interior world anymore. So language is incredibly important.

And I've spent much of my life seeking words, seeking ways to talk about experiences we all have every day but that we pass over in silence because we have no words that we learned in school for them.

So I think it's really important right now more than maybe any time we've ever had for us to figure out how to talk about all the invisibles that are what make our lives worthwhile, and to do so right now as well as we possibly can.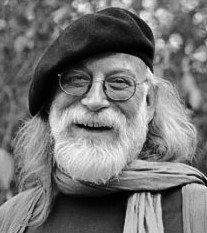 Stephen Harrod Buhner is an Earth poet and the award-winning author of twenty books on nature, indigenous cultures, the environment, and herbal medicine. He comes from a long line of healers including Leroy Burney, Surgeon General of the United States under Eisenhower and Kennedy, and Elizabeth Lusterheide, a midwife and herbalist who worked in rural Indiana in the early nineteenth century. The greatest influence on his work, however, has been his great-grandfather C.G. Harrod who primarily used botanical medicines, also in rural Indiana, when he began his work as a physician in 1911.
Stephen's work has appeared or been profiled in publications throughout North America and Europe including Common Boundary, Apotheosis, Shaman's Drum, The New York Times, CNN, and Good Morning America. Stephen lectures yearly throughout the United States on herbal medicine, the sacredness of plants, the intelligence of Nature, and the states of mind necessary for successful habitation of Earth.
He is a tireless advocate for the reincorporation of the exploratory artist, independent scholar, amateur naturalist, and citizen scientist in American society – especially as a counterweight to the influence of corporate science and technology.
His most recent works are:
Plant Intelligence and the Imaginal Realm: Beyond the Doors of Perception into the Dreaming of Earth (Bear and Company/Inner Traditions, 2014). The sequel to Secret Teachings of Plants.
Healing Lyme (second edition), Raven Press, 2016.