by Dan Dicks, Press for Truth
February 3, 2021
"Radisson Hotel is owned by the Chinese. The Chinese government owns the facilities that Canadians are being held in isolation camps. Just let that sink in for a second, guys. Maybe you'll start to understand where this is all heading."
Video available at Press for Truth BitChute channel.
Canada is no longer a free country, when you're innocent and healthy but are forced into isolation camps, that's tyranny, not freedom. Under the guise of a "pandemic" the Canadian government has introduced insanely Draconian laws that completely obliterates the rights of every single person living in Canada.
In this video Dan Dicks of Press For Truth covers the Canadian Gestapo and how they're scooping up innocent and healthy Canadians at their discretion precisely as we've WARNED they would.
___
Link to Toronto Sun article: 
https://torontosun.com/news/local-news/warmington-man-in-forced-detention-in-a-canada-covid-camp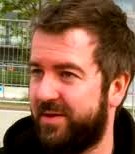 Dan Dicks is an investigative journalist and an award winning documentary filmmaker. He is also the founder of an independent media outlet known as Press For Truth which produces videos and documentary films about issues that the mainstream media often fails to report on.
Press for Truth Bitchute channel