sourced from DavidIcke.com
August 22, 2021
Project Looking Glass technology saw that the Great Awakening cannot be stopped', says military insider. As I have been saying the outcome is written by levels of consciousness way beyond the village idiots of the Cult – the people win as they awaken to the truth. We are in the darkest days in 2021/22 and into 23 before dawn breaks and a whole new reality emerges based on love and freedom. Stay strong, don't submit to tyranny – freedom IS coming and the 'all-powerful' Cult is in its last desperate death throes.
Video clip available at Inspired YouTube channel.
This was recorded over a decade ago and makes it even more incredible as we see the events described unfold on the planet today.  Watch the full interview here: https://youtu.be/VtHCofbE1PM
cover image credit: sputnikzion / pixabay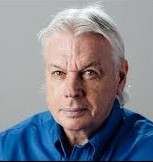 David Icke has been warning for nearly 30 years of a coming global Orwellian state in which a tiny few would enslave humanity through control of finance, government, media and a military-police Gestapo overseeing 24/4 surveillance of a microchipped population.
He has said that 'physical' reality is an illusion and what we think is the 'world' is a holographic simulation or 'Matrix' created by a non-human force to entrap human perception in ongoing servitude.
They called him 'crazy', 'insane', a 'lunatic', and he was subjected to decades of ridicule, dismissal and abuse. Oh, but how things change.
Today his books are read all over the world and his speaking events are watched by thousands on every continent. Why? Because what he has been so derided for saying is now happening in world events and even mainstream scientists are concluding that reality is indeed a simulation.
Almost every day something that David Icke said long ago is supported by happenings and evidence. As Mahatma Gandhi said: 'First they ignore you, then they laugh at you, then they fight you, then you win.'