by International Tribunal for Natural Justice
April 2018
Source
The International Tribunal for Natural Justice launched the Judicial Commission of Inquiry into Human Trafficking and Child Sex Abuse at an inaugural seating in Westminster, London on April 16-18th 2018. The filmed testimonies are now available via this Official Commission site to the Press, Public and all interested institutions and organs of government. The principal intention behind this Commission is not to instigate witch-hunts or target individuals, but to set in motion a culture that ensures restoration of truth, disclosure and reconciliation around the subject of human trafficking and child sex abuse. Our goal is to achieve in 9 – 12 months what governments and leaders of the world have failed to do for centuries – shed the full light of truth on the nature and extent of the human trafficking and child sex abuse pandemic. Seatings will be taking place in Washington, the Hague and Rome in the months ahead. An Official Commission Report will be published and issued to the world-at-large at the Declaration event in Rome at the close of the Inquiry.
Testimonies include:
Introduction to ITNJ Commissioners
'Live' Organ-Harvesting Testimonies
Survivor Testimonies
ITNJ Special Court Seating: The Michelle Young Case — Financial Corruption & Collusion
[Note: according to statement by Sacha Stone on June 24, 2019 during opening statements at ITNJ Commission of Inquiry into Weaponisation of the Biosphere "…we're not letting go of the judicial commission of inquiry into trafficking and child sex abuse that is still underway…"]
ITNJ Westminster Seatings: ITNJ Inquiry into Human Trafficking and Child Sex Abuse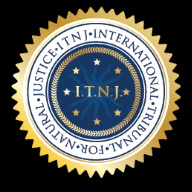 ITNJ Vision: A world in which the Earth is honoured; Truth is spoken; Love is the basis of all action; and Justice is an organic, self-fulfilling function of respect for natural law.
ITNJ Mission: To apprehend the abuses and tyranny of systems and institutions; restore truth and reason to the delivery of justice in the world; and uphold natural justice as the foundational tenet of human expression beyond the artifice of borders and boundaries.
ITNJ Open Court: In homage to its overriding commitment to Truth and transparency, the ITNJ is committed to video-recording all proceedings and live-streaming hearings and trials whenever possible, with all video recordings archived for public access.  Never again shall the corrupting influence of secrecy be permitted to colour the hearts of those whom we entrust as guardians of our ancient treasures; our birth-right of natural justice.