Source:  Press For Truth
November 15, 2018
Google's parent company Alphabet Inc. owns a company called Sidewalk labs and they are working with the Canadian government to launch a new "smart city" at the waterfront of downtown Toronto called "Quayside". Quayside is proposing a centralized identity management system which each resident uses to accesses public services such as library cards and health care. Other plans include driverless cars, "mixed-use" spaces that change according to the market's demands, heated streets, and "sensor-enabled waste separation."
In this video Dan Dicks of Press For Truth takes a deep look at how our governments are jumping in bed with the big tech companies to form a surveillance state they are calling "smart cities" in a big brother nightmare the like of which George Orwell himself couldn't have even envisioned.
DONATE ➜ https://www.paypal.me/PressforTruth
PATREON ➜ https://www.patreon.com/PressForTruth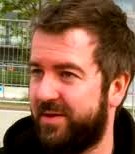 Dan Dicks is an investigative journalist and an award winning documentary filmmaker. He is also the founder of an independent media outlet known as Press For Truth which produces videos and documentary films about issues that the mainstream media often fails to report on.
Press for Truth Bitchute channel