Source:  Press For Truth
Published on Dec 13, 2018
The INTERNET OF THINGS, 5G WIFI, SMART METERS, SURVEILLANCE And CONTROL OH MY!! (With Jerry Day)
The internet of things, or IoT, is a system of interrelated computing devices, mechanical and digital machines, objects, animals or people that are provided with unique identifiers (UIDs) and the ability to transfer data over a network without requiring human-to-human or human-to-computer interaction. A key component of this system are smart meters that are connected to smart appliances in houses located in smart cities. In this video Dan Dicks of Press For Truth speaks with Jerry Day from the EMF Help Center about the dangers of smart meters, the internet of things, where this is all heading and most importantly what you as an individual can do to protect yourself and your family moving forward.
Follow Dan Dicks:
FACEBOOK ➜ http://www.facebook.com/PressForTruth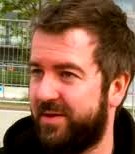 Dan Dicks is an investigative journalist and an award winning documentary filmmaker. He is also the founder of an independent media outlet known as Press For Truth which produces videos and documentary films about issues that the mainstream media often fails to report on.
Press for Truth Bitchute channel