by Dan Dicks, Press for Truth
August 10, 2020
Del Bigtree's YouTube channel "The Highwire" was recently terminated by Google in yet another example of blatant censorship coming at the hands of the major tech conglomerates in Silicon Valley.
Doctors, scientists, and now journalists who dare to challenge the status quo narrative are being censored, silenced and pushed to the back corner of the internet.
In this video Dan Dicks of Press For Truth speaks with Del Bigtree of The Highwire about his channel being deleted, the coming mass mandatory vaccination program and most importantly what you as an individual can do TODAY to protect yourself moving forward in this post Covid-19(84) nightmare.
To learn more from Del visit:
https://thehighwire.com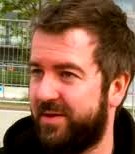 Dan Dicks is an investigative journalist and an award winning documentary filmmaker. He is also the founder of an independent media outlet known as Press For Truth which produces videos and documentary films about issues that the mainstream media often fails to report on.
Press for Truth Bitchute channel