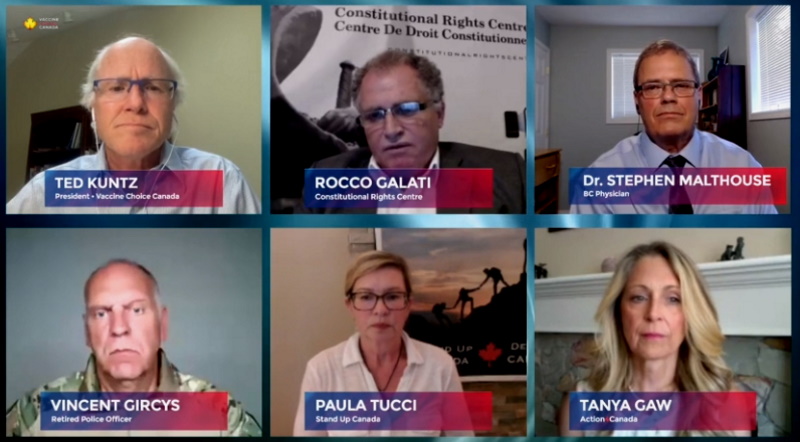 by Ted Kuntz, Vaccine Choice Canada
September 3, 2021
On September 1, 2021, Rocco Galati, Tanya Gaw, Dr. Stephen Malthouse, Paula Tucci and Vincent Gircys, joined VCC President, Ted Kuntz to examine "Our Rights of Refusal" regarding COVID-19 vaccinations and other measures
[Video available at Vaccine Choice Canada Rumble and BitChute channels.]
Ted Kuntz, Vaccine Choice Canada:
Federal Employees: Are you being coerced with vaccine mandates?:
 https://vaccinechoicecanada.com/in-the-news/vaccine-mandate-coercion-federal-employees/
'No Student Mandates' resource page: https://bit.ly/NoStudentMandates
Vaccine Regret: https://vaccinechoicecanada.com/uncategorized/vaccine-regret/
Rocco Galanti, Constitutional Rights Centre
Paula Tucci, Stand Up Canada
Tanya Gaw, Action4Canada
Dr. Stephen Malthouse, BC Physician
Vincent Gircys, Retired Police Officer
---
Quote shared by Rocco Galanti:
"Stupidity is a more dangerous enemy of the good than malice. One may protest against evil; it can be exposed and, if need be, prevented by use of force. Evil always carries within itself the germ of its own subversion in that it leaves behind in human beings at least a sense of unease. Against stupidity we are defenseless. Neither protests nor the use of force accomplish anything here; reasons fall on deaf ears; facts that contradict one's prejudgment simply need not be believed – in such moments the stupid person even becomes critical – and when facts are irrefutable they are just pushed aside as inconsequential, as incidental. In all this the stupid person, in contrast to the malicious one, is utterly self satisfied and, being easily irritated, becomes dangerous by going on the attack. For that reason, greater caution is called for when dealing with a stupid person than with a malicious one. Never again will we try to persuade the stupid person with reasons, for it is senseless and dangerous."
Rocco Galanti's interview with Catherine Austin Fitts:
Constitutional Lawyer Rocco Galati & Catherine Austin Fitts: Money & Finance Under Covid – Historical Manipulation of Humanity via Money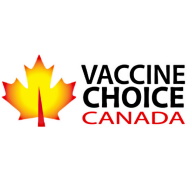 Vaccine Choice Canada is a volunteer run, not-for-profit educational society dedicated to promoting health among Canadians by helping families make fully informed and voluntary choices about vaccination.
Vaccine Choice Canada receives no funding from government or corporate sources and is solely supported by our members.