by James Corbett, The Corbett Report
June 5, 2020
This week on the New World Next Week: The blueprint for total lockdown continues to unfold; the great reset button is pushed by the World Economic Forum; and the corporatocracy monopolizes the global economy.
Watch this video on BitChute / LBRY / Minds.com / YouTube
Story #1: This Is Not a Revolution. It's a Blueprint for Locking Down the Nation.
https://bit.ly/3gSJu1y
Police Brutality & Torture Are Normal After 9/11 (Dec. 19, 2007)
https://bit.ly/3dHZmle
George W. Bush Says George Floyd's Death Reveals America's "Tragic Failures"
https://bit.ly/3dwoQlv
Obama Hosts Town Hall Discussion of 'Re-Imagining Policing' After George Floyd's Death
https://bit.ly/3075nnW
The Purge: Election Year – FLNWO #38 (Sep. 19, 2016)
https://bit.ly/36X3nzX
Thousands March In Wake Of George Floyd's Death, From Amsterdam To Tokyo
https://bit.ly/3gLcoRb
Cookie-Cutter Unrest in Japan Shows the Global Covid Clampdown Is No Accident
https://bit.ly/3cuNjXo
Story #2: "Now Is The Time For a 'Great Reset'"
https://bit.ly/2XX8M63
'The Great Reset: How New Ways of Living and Working Drive Post-Crash Prosperity'
https://bit.ly/2XupqdX
'Second Renaissance': Great Reset
https://bit.ly/2ADWPKg
Story #3: At Least 11 Local News Stations Caught Airing The Exact Same Amazon Propaganda Segment
https://bit.ly/2AC6dyh
Corporate Mega-Bailout Bonanza Begins In Europe
https://bit.ly/3drqx3M
You can help support our independent and non-commercial work by visiting http://CorbettReport.com/Support & http://MediaMonarchy.com/Join. Thank You.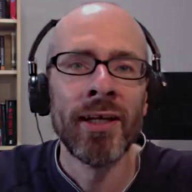 James Corbett has been living and working in Japan since 2004. He started The Corbett Report website in 2007 as an outlet for independent critical analysis of politics, society, history, and economics. Since then he has written, recorded and edited thousands of hours of audio and video media for the website, including a podcast and several regular online video series. He is the lead editorial writer for The International Forecaster, the e-newsletter created by the late Bob Chapman.
His work has been carried online by a wide variety of websites and his videos have garnered over 40,000,000 views on YouTube alone. His satirical piece on the discrepancies in the official account of September 11th, "9/11: A Conspiracy Theory" was posted to the web on September 11, 2011 and has so far been viewed nearly 3 million times.
For more in-depth content, James Corbett offers a subscription newsletter. Become a Corbett Report subscriber: https://www.corbettreport.com/members/